Terrence Jennings – 6'10 240 lbs.
Amare Stoudemire
6″10 249 lbs.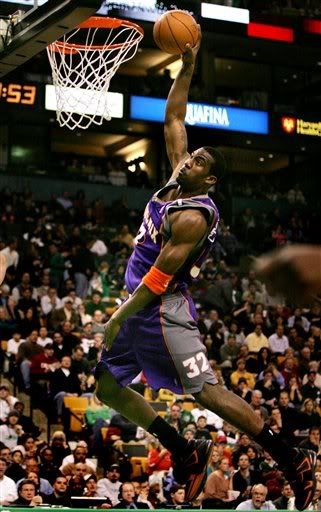 From the second Terrence Jennings committed to Louisville all I heard from a number of folks is that his game is comparable to 5 time NBA All Star Amare Stoudemire. In April of 2008 I got my first chance to see T.J. in action at the Derby Festival Classic…I will admit after watching him in the All Star game I could see where the comparison was being made…But I did not do is take into consideration that this was an all star game which means there was a lot of dunks behind the back passes and zero defense being played…I never took into consideration how many weaknesses Jennings had.
Terrence was a consensus top 15 player and a Rivals 5 star. If you look at these 2 videos below you can see why T.J. had such high praise.
After 2 seasons as a Cardinals I no longer hear people comparing T.J. and Amare…Until recently I honestly forgot how good Jennings was "SUPPOSED" to be. In his freshman year Jennings had a very slow start. When the season began he did not see the court very much. Most people felt T.J. was in the Rick Pitino "Dog House" but towards the middle of the season it looked like the light came on for Jennings. We saw a sense of urgency. Over the final 20 games he averaged 5.5 pts. 3.5 rebounds and 1.7 blks. (ranked 5th in blocked shots in the Big East)…Those numbers wont jump out at you but if you look at where most of the production was coming from with T-Will and Earl I thought Jennings was really starting to emerge as the big time player he was expected to be…Not so much…T.J. started his sophomore season at the same place he started his freshman season…Rick Pitino's Dog House. I really thought overall this was a poor season for Terrence…He averaged 13.2 minutes a game 5.4 points. and 3.4 rebounds. I honestly thought it was such a waste to have a guy this talented only getting 13 minutes a game. Rick made it quite clear he did not like starting both Jennings and Samuels so of course Jennings was the one coming off the bench…As many times as we saw T.J. get a quick dunk we saw him getting lost on defensive rotations which resulted to him sitting right back on the bench.
I really dont think it is fair to compare Jennings to a 5 time NBA All-Star but a recent Rick Pitino Quote got me thinking a tad bit differently.
When Rick was interviewed a few weeks ago on WKRD790 he said in his end of the year player evaluation with T.J. he told him that he no longer can just look like Amare Stoudemire…he must play like him as well.
When I heard that I started to think if you point out the positives and weaknesses of both players they really do have a similar game.  Obviously T.J. is not even close to the player Amare Stoudemire is but his overall game does mimic Stoudemire's.
Offensively T.J. is a freakish athlete. He runs the floor great for a guy his size…With Siva leading the break I think there will be a lot of opportunities for Jennings to score in transition. For the first time since being a Cardinal T.J. will have a true point guard to work with. There is no doubt in my mind Peyton Siva will do a lot of things to make Jennings a better player. On defense Jennings is a great shot blocker. He has great timing and is able to block a lot of shots without committing the foul but outside of that Jennings is a very poor defender. Smaller and quicker post players seem to give him trouble…I think 90% of the reason he is always pulled out of games is because his defensive rotations. Anytime the team is full court pressing it seems like T.J. is always lost.
He has a whole lot to work on this off season with footwork, mid range jump shot, ability to pass out of the post, and last but not least defensive fundamentals.
The somewhat scary part about it is that next season will rely heavily on how T.J. can develop. He will have much more of an opportunity now that Samuels is gone but only time will tell if he can take advantage of it. Having a guy like incoming freshman Gorgui Dieng around will help Terrence…Dieng will push very hard in practice.
So lets make it clear…When comparing these 2 guys I dont think anyone in their right mind will argue that these two players are on the same level…But I do think it is fair to argue that they have a similar type of game.
<