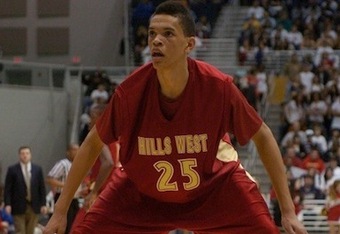 Rick Pitino, has added another prospect into the mix for the 2011class. Long Island swingman, Tyler Harris, has been offered a scholarship within the last 48 hours.  
Via ZagsBlog.com
Torrel Harris, Tyler's father, said Louisville coach Rick Pitino officially offered the 6-8 Harris a scholarship and wants him to take an official.
"They offered him," Torrel said. "If he goes to Louisville and he likes Louisville, they're taking his commitment."
Despite a report saying Harris would trip to Louisville Oct. 22, Torrel said that date hasn't been nailed down.
"Those dates aren't confirmed," he said.
Harris will visit Iowa this weekend, N.C. State Oct. 1 and Providence Oct. 15.
He will also visit Louisville and St. John's, probably on Oct 22 and Nov. 5, but those dates could be flipped.
"Those dates may be flipped," Torrel said. "St. John's is right here. I can visit St. John's anytime."
Harris, a senior from Long Island who plays at St. Benedict's Prep, has become a Louisville target, along with Westchester (N.C.) Country Day forward Quincy Miller and Seattle Garfield guard Tony Wroten, with whom Pitino had an in-home earlier this week.
"It's Quincy Miller, Tyler and they're looking at Tony Wroten," Torrel said.
Louisville is also pursuing 6-7 small forward Rodney Hood of Meridian, Miss., who will take an official.
<
[addthis tool="addthis_inline_share_toolbox_khm1"]