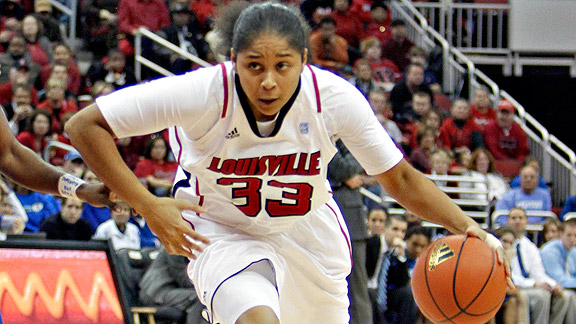 UofLSports.com Press Release:
Louisville, Ky. – Louisville forward Monique Reid was one of 35 top collegiate players that have accepted invitations to attend the 2011 USA Basketball Women's World University Games Team Trials, which will take place May 22-25 at the U.S. Olympic Training Center (USOTC) in Colorado Springs, Colo. Invitations to the trials were issued by the USA Basketball Women's Junior National Team Committee, chaired by Sue Donohoe, NCAA vice president for Division I women's basketball.
"We truly are looking forward to an incredible group of talent at the World University Games Team Trials," said Donohoe. "Many of these players have been involved with USA Basketball in the past, and those that are new to the process have experience at some of the country's best programs. It will be a tough task for the committee to identify the 12-member team, and we look forward to seeing a lot of heart and hard work."
For the second straight year Reid led the Cardinals in scoring with 15.5 points per game and ranks fourth in the league. She was named a first team All-BIG EAST selection for the second consecutive season. The junior forward also led the team in field goal percentage, connecting on 55.2percent from the field while ranking fifth in the league. She also led the team in rebounding with 6.1 boards per game. She was named to the BIG EAST Weekly Honor Roll six times during the year and was named a preseason All-BIG EAST selection. She is currently ranked 10th on the Cardinals' all-time scoring list with 1,345 career points.
Accepting invitations to the 2011 USA World University Games Team Trials are: Lasondra Barrett (Louisiana State/Jackson, Miss.); Alex Bentley (Penn State/Indianapolis, Ind.); Kelsey Bone (Texas A&M/Stafford, Texas); Cierra Bravard (Florida State/Sandusky, Ohio); Sydney Carter (Texas A&M/DeSoto, Texas); Brittany Chambers (Kansas State/Jordan, Minn.); Carolyn Davis (Kansas/Houston, Texas); Elena Delle Donne (Delaware/Wilmington, Del.); Skylar Diggins (Notre Dame/South Bend, Ind.); Jasmine Dixon (UCLA/Long Beach, Calif.); Jacki Gemelos (USC/Stockton, Calif.); Briana Gilbreath (USC/Katy, Texas); Keisha Hampton (DePaul/St. Louis, Mo.); Natasha Howard (Florida State/Toledo, Ohio); Courtney Hurt (VCU/Conyers, Ga.); Shenise Johnson (Miami/Henrietta, N.Y.); Glory Johnson (Tennessee/Knoxville, Tenn.); Lynetta Kizer (Maryland/Woodbridge, Va.); Maggie Lucas (Penn State/Narberth, Pa.); A'dia Mathies (Kentucky/Louisville, Ky.); Lindsey Moore (Nebraska/ Covington, Wash.); Natalie Novosel (Notre Dame/Lexington, Ky.); Chiney Ogwumike (Stanford/Cypress, Texas); Nnemkadi Ogwumike (Stanford/Cypress, Texas); Devereaux Peters (Notre Dame/Chicago, Ill.); Jaime Printy (Iowa/Marion, Iowa); Sugar Rodgers (Georgetown/Suffolk, Va.); Kayla Standish (Gonzaga/Ellensburg, Wash.); Shekinna Stricklen (Tennessee/Morrilton, Ark.); April Sykes (Rutgers/Starkville, Miss.); Tyra White (Texas A&M/Kansas City, Mo.); Davellyn Whyte (Arizona/Phoenix, Ariz.); Riquna Williams (Miami/Pahokee, Fla.); and Shawnice Wilson (Miami/Pittsburgh, Pa.).
<
[addthis tool="addthis_inline_share_toolbox_khm1"]