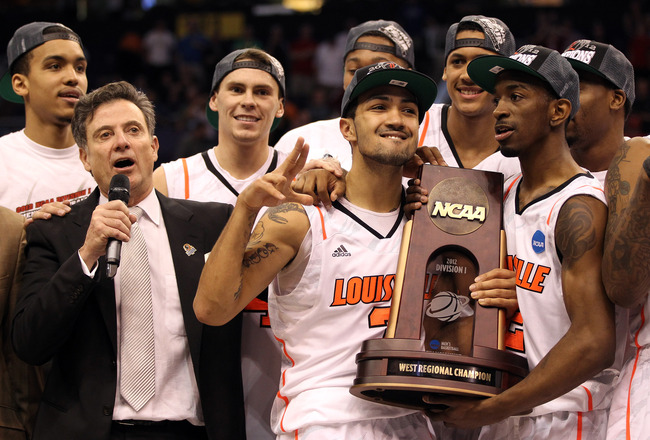 Yesterday afternoon CBS Sports' three college basketball writers Jeff Goodman, Gary Parrish, and Jeff Norlander revealed their preseason #1 selection for the 2012-13 season. Parrish went with Kentucky, while Norlander went with the Hoosiers, and what is likely the biggest shock of the offseason, Jeff Goodman tabs Louisville as your #1 squad. It's not shocking considering how great this team could potentially be; it's shocking because Goodman is notoriously known as a "Louisville hater."  I honestly don't think Goodman is as nearly as biased against Louisville as some people believe, but he was definitely eating crow when the Cards made the Final Four last season.
Here is an excerpt from the article. Click here to read it in its entirety.
Flash back to New Orleans last March 31, when Pitino's bunch had a chance to make it a one-possession affair with a tad more than five minutes remaining in the national semifinals, against a Kentucky crew that has a chance to send a record six players to the first round of the NBA Draft.

Sometimes overlooked amid the flammable quotes and Don Corleone-esque white suit is the obvious: Pitino is one of the elite coaches in college basketball history. Sure, he's not Calipari in terms of recruiting but this season, Pitino won't be completely overmatched when pitting his roster against the one down the road.

A year ago, his team was ravaged by injuries, yet somehow made its way to New Orleans for a Final Four appearance.

Pitino lost Kyle Kuric, Chris Smith and Jared Swopshire off that team, but all are replaceable.

This year's team has talent, experience and depth

Kentucky cannot boast all three of those attributes. And while Indiana can, Crean is not Pitino.

Pitino will be 60 years old when the season begins. He'll also have more than 600 career D-I victories under his belt, a half-dozen Final Four appearances and one national title.

He'll have a point guard in Peyton Siva that has three years of experience — including the last two as a starter. He'll have a pair of talented wings that no one truly saw last season: Wayne Blackshear was a heralded freshman who was coming off two shoulder injuries and didn't make his college debut until mid-February; and Luke Hancock will vie for a starting spot after sitting out a year ago following a transfer from George Mason.

Pitino has a big-time duo up front. The ever-improving Gorgui Dieng, who nearly averaged a double-double as a sophomore and is one of the most intimidating shot-blockers in the nation, to go along with undersized but strong power forward Chane Behanan, who grabbed 7.5 boards per game as a frosh a year ago.

The starting lineup isn't the only place where Louisville holds the advantage over both Kentucky and Indiana.

The Cardinals' second unit could give plenty of teams a run.

Russ Smith can come off the bench and give Louisville instant firepower. Long and talented guard Kevin Ware — who was never able to be a consistent producer after missing the first semester of 2011-12 due to academics — is ready for a full contribution. Zach Price is a more than capable backup to Dieng and the team's top perimeter shooter, while Mike Marra returns after missing nearly all of last season with a torn ACL. Then there's late addition Montrezl Harrell, the one-time Virginia Tech signee whose high motor and ability to rebound and run the court earned him a spot on the U-18 team that went to Brazil.Good
Goodman put together this chart comparing the talent between Louisville, Kentucky, and Indiana. The Cards appear to the advantage at nearly every position.
<
[addthis tool="addthis_inline_share_toolbox_khm1"]