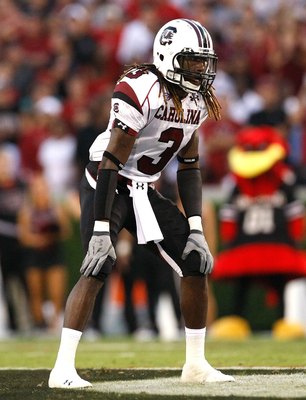 According to Mike Hughes of InsideTheVille.com, running back Jarvis Giles has left the Louisville football program.
Giles transferred to Louisville from South Carolina in January. He was a 4-star recruit coming out of high school and rushed for 277 yards in his freshman season with the Game Cocks. It was Giles's sophomore season when things turned sour in Columbia. After having a solid season as a true freshman, Giles was expected to get the majority of the carries in 2010, but was beat out by freshman sensation Marcus Lattimore. To make matters worse Giles was then suspended indefinitely for violating team rules. He played just one game for South Carolina in 2010.
With him being a very highly touted prospect, I think Giles expected to transfer into Louisville and be an instant star, but it was the exact opposite. With Jeremy Wright coming off a stellar freshman season, and Vic Anderson finally 100% healthy, Giles needed to work a little harder than he wanted to in order to climb the depth chart. Although he had to sit out this season due to the NCAA transfer rule, Giles was still aloud to participate in practice, and it sounds like Giles had a rough spring. According to sources, Jarvis was not putting in the work that Coach Strong expected.
Unfortunately, it sounds like Jarvis just didn't fit Charlie Strong's system very well. It will be interesting to see where he ends up next.
<
[addthis tool="addthis_inline_share_toolbox_khm1"]