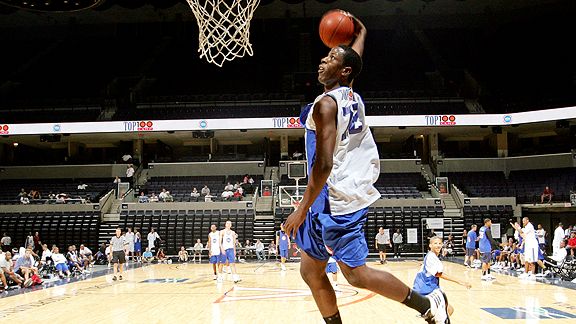 I had the chance to talk to two different sources at Huntington Prep over the weekend, and they are certain that Coleman will not be eligible for the 2010-2011 season.
This has not been reported or made public yet, but I assure you I would not release this news if I was not sure my sources were credible. This shouldn't be a surprise to anyone, Coleman's grades have been an issue since he gave Pitino a verbal committment in February. Coleman now has the option to stay 1 more year at prep school and reclassify as a member of the 2011 class. I assume Coleman will be welcomed with open arms next year if he can qualify. His academic situation is so severe he has not been accepted by the university, therefor he does not have the option to enroll for the fall semester and improve his grades. Coleman's only college options for this season are JUCO.
I hate to be the bearer of bad news, but like I said I don't think this is a surprise to anyone.
This is what we will not be seeing next year.
<
[addthis tool="addthis_inline_share_toolbox_khm1"]