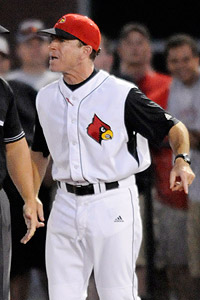 WHAS is reporting that the baseball team will be without head coach Dan McDonnell for the first 3 games of the NCAA Baseball tournament.
McDonnell had an interaction with an umpire during the Cardinals appearance in the BIG EAST Baseball Championship. McDonnell was ejected from U of L's elimination game against St. John's in the middle of the sixth inning last Saturday in Clearwater, Fla.
If anyone has followed McDonnell since he has been here at Louisville this is very uncharacterisitc. Coach McDonnell is the definition of a class act.
McDonnell was on WKRD790 radio program "The earlybirds" with Drew Deener on Tuesday and when he was asked about the situation he stated he was defending his player. Left Fielder Drew Haynes was arguing a call with an umpire when another ump got involved in the situation Coach McDonnell then went to the field to defend his player…Haynes was also ejected from the game.
<