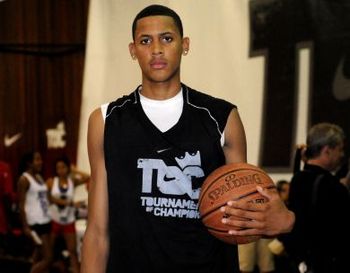 Angel Nunez, a 6'7 180 lb, small forward from the Bronx, has committed to Louisville. This gives Pitino his fifth commit from the 2011 class.
This committment pretty much came out of nowhere. Nunez has held an offer from Louisville for quite a while, but has had an open list of ten schools. Nunez is not ranked in the top 150, but he is still a very talented player. A lanky wing that can stroke the three ball. I hate to put high expectations on a kid we wont see for another year, but his game and frame remind me a lot of Francisco Garcia. He doesn't have the energy and enthusiasm as Garcia, but his style of play is almost identical.
As of right now Nunez will be the lowest ranked commit for this 2011 class. However, Pitino is not the only coach who thinks Nunez will be a great player. Arizona, Arkansas, Cincinnati, UConn, Providence, Rutgers, Virginia Tech, West Virginia, St. Johns, and Indiana have all offered him a scholarship and Kentucky has been actively recruiting him. Nunez does have a small connection to Louisville, he plays for the same AAU club that Edgar Sosa played for (NY Gauchos) and he attends the same prep school (Notre Dame Prep)  that produced Terrence Jennings.
If Rick thinks highly enough of Nunez to offer him a scholarship, I wont question him. However, this doesn't make our chances of landing Quincy Miller or Rodney Hood look any better. Hood was a long shot from the beginning, and recent rumors are indicating that Baylor has jumped ahead of Louisville in the battle for Quincy Miller and Deuce Bello. Tony Wroten will announce his decision on Oct. 8, if he choses Louisville that very well could close out the 2011 class.
Not a whole lot of highlight videos on Nunez, but this is what I found.
<
[addthis tool="addthis_inline_share_toolbox_khm1"]