With a 6-3 overall record it's hard to argue that Chris Mack and the Louisville Cardinals belong in the top 25 of the AP Poll. With that said, their resume is far better than a lot of ranked teams.
–Not many programs around the country can say they have wins against top ten teams. Obviously it's early and other teams will have opportunities to collect signature wins, but having a marquee win this early is huge. Not getting one last year is likely what kept the Cards out of the NCAA Tournament. Things could change, but Louisville's win over Michigan State is expected to age well. The Spartans have won three in a row since losing to Louisville. Two of those wins came against No. 18 Iowa and a road victory at Florida.
–The Cards win at Seton Hall already looks better now than it did when it happened. A week after losing on their home floor to Louisville the Pirates knocked off then No. 9 ranked Kentucky on a neutral floor. Only time will tell if the win at Seton Hall will be one that the Cards get credit for on selection Sunday, but so far so good.
–All three of Louisville's losses have come against teams that are currently ranked in the top 25 — No. 3 Tennessee, No. 21 Marquette & No. 25 Indiana.
Let's talk numbers…
–Louisville has played two TRUE road games as of Dec. 10. Michigan and Michigan State are the only two teams in the top ten that can say the same. To be fair, playing true road games doesn't mean much unless you win and the Cards are 1-1 on the road. However, they have been tested more than plenty of teams that are ranked.
—NET RANKINGS. Despite the loss to Indiana, Louisville has jumped up four spots from No. 23 to No. 19. The NET rankings will replace the RPI
The NCAA Evaluation Tool (NET) relies on game results, strength of schedule, game location, scoring margin, net offensive and defensive efficiency, and the quality of wins and losses.
Having a high NET ranking will pay off in March.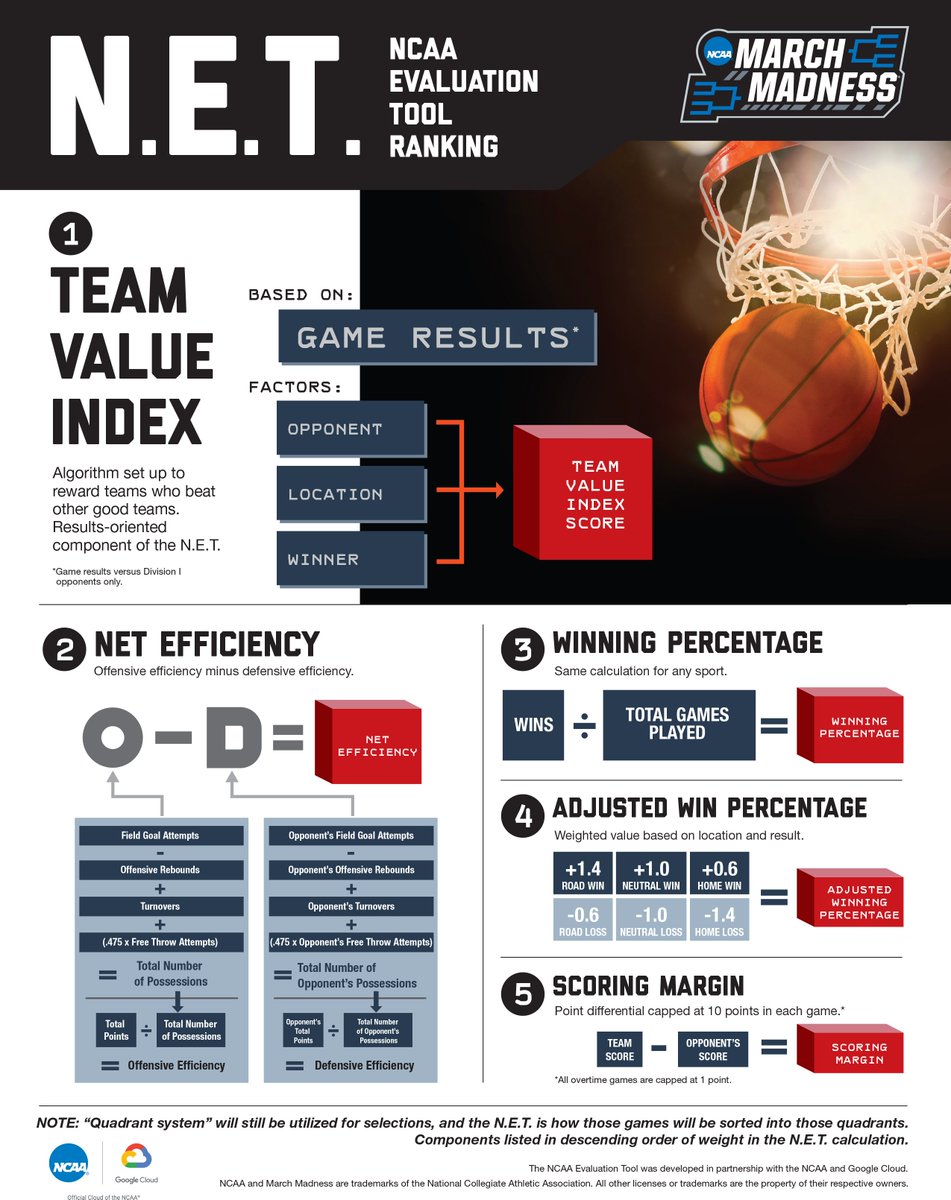 —KenPom: The updated KenPom rankings have Louisville 40th overall in regards to adjusted efficiency margin, 33th in offensive efficiency and 57th in defensive efficiency.
—NCAA.com Katz Power 36 Rankings: These won't mean anything on selection Sunday, but Andy Katz's weekly power 36 rankings appear to evaluate based on results rather than preseason rankings. He has Louisville at No. 28.
---
There's still a lot of basketball to be played, but if you look around at the rest of the country, Louisville has already accomplished more than most.
<
[addthis tool="addthis_inline_share_toolbox_khm1"]