ACC presidents met on Wednesday afternoon to discuss various scheduling models for the upcoming college football season. In the end, a ten game conference schedule with an option to play one non conference game from a program within your state was the choice.
With this decision, the ACC will scrap divisions for the 2020 season and also allow Notre Dame to be a member of the league and compete for the conference championship. In return, Notre Dame will share the revenue from their NBC television deal with all ACC league members.
As for Louisville, their 2020 football schedule looks a lot different than it did 24-hours ago.
Home opponents: Florida State, Miami, Syracuse, Virginia Tech and Wake Forest
Road opponents: Boston College, Georgia Tech, Notre Dame, Pitt and Virginia.
Clemson no longer being on the schedule is the obvious reaction for the Cards.
Dates for each game should be announced soon, but the season will begin on Sept. 12, tentatively.
The annual Governor's Cup match-up with Kentucky, but the ball is in their court. The SEC's plan for football in 2020 is still unclear, but they'll need to allow league members to play out of conference for the game to happen.
Full ACC Football Schedule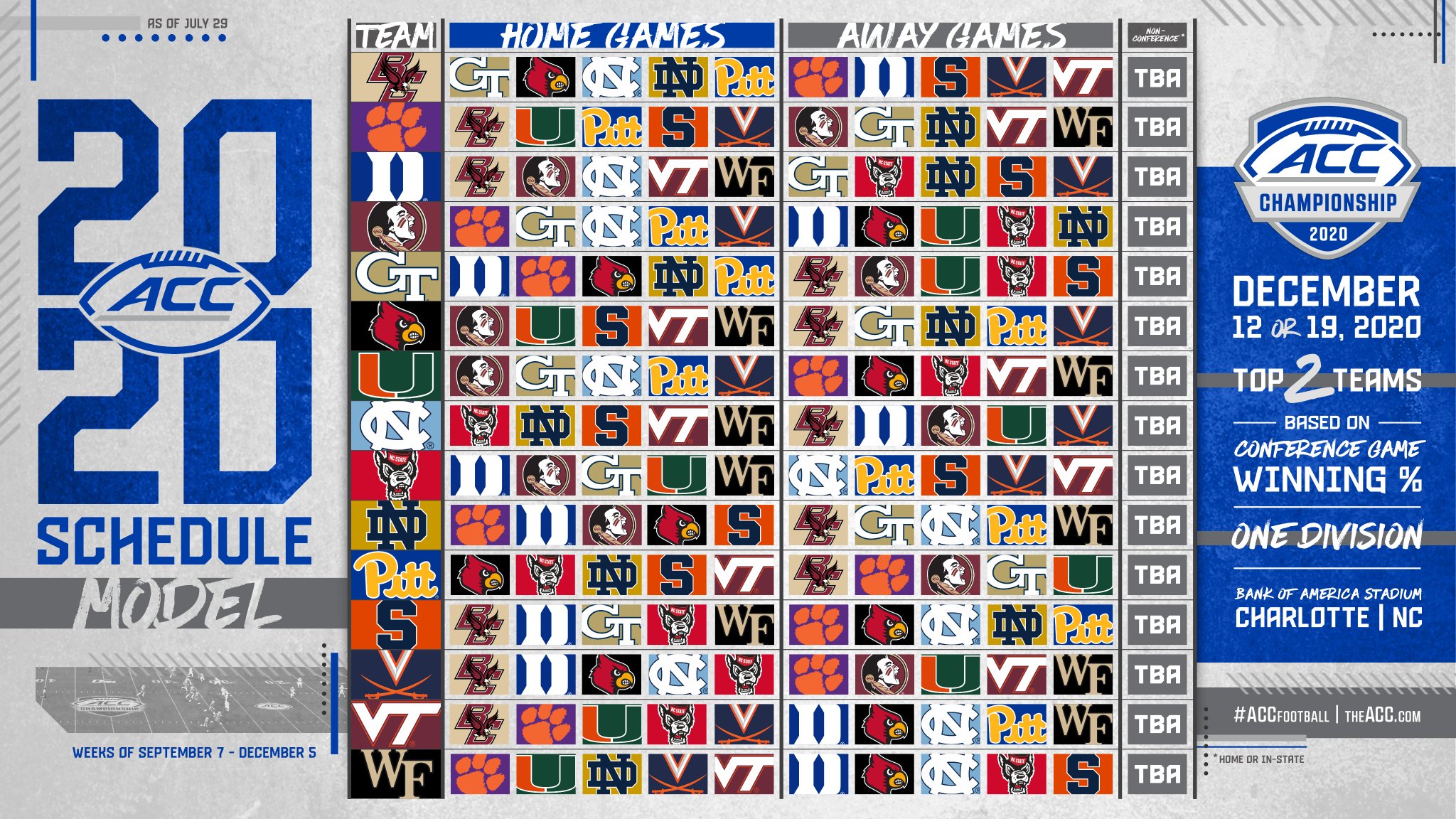 Objectively speaking, Louisville may have the easiest schedule of any team in the league…
"I'm thrilled with the positive news coming from the Atlantic Coast Conference about moving forward with a new scheduling model for the 2020 season," Scott Satterfield said in an official statement from the program.
"The proposed home and away schedule is extremely challenging, but very exciting at the same time. We now have a clear direction about the upcoming football season, and our program is just looking forward to beginning  those preparations next week."
"We are encouraged with the ACC announcement today regarding fall sports competition," Vince Tyra said in an official statement. "While the health and safety of our student athletes is our top priority, we have multiple models under review for as many Cardinals fans as possible to attend games this fall. We will continue to monitor the health climate and work with local and state officials to communicate fan protocols as we get closer to the start of the season. Fans can visit GoCards.com/2020 for the most up-to-date information, and we'll certainly be reaching out soon."
<
[addthis tool="addthis_inline_share_toolbox_khm1"]