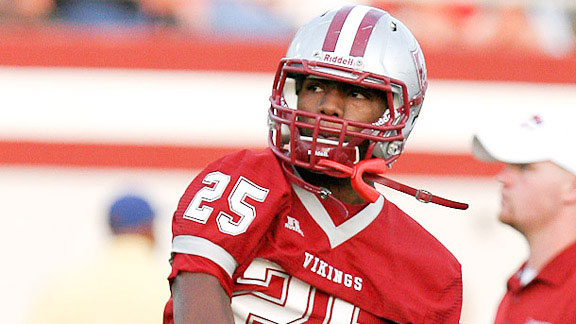 5-star linebacker Josh Harvey-Clemons was originally set to take an official visit to Louisville this weekend. Unfortunately, it appears that Harvey-Clemons will instead make a trip to Miami instead of Louisville. Charlie Strong and his staff did everything they could to try and land the Valdosta, GA prospect, but it's starting looks like Louisville may officially out of the picture.
According to Michael Carvell of the Atlanta Journal Constitution, Louisville did not finalize plans for Harvey-Clemons visit this weekend. His grandfather told the AJC that Louisville may have thrown in the towel and given up on pursuing him.
Excerpt from AJC.com
"If Louisville doesn't respond, and Josh talks to Miami and wants to go down there, I will take Josh down to Miami myself this weekend," Clemons said. "That will be decided tonight and Josh will make that decision. I don't know what's going on with Louisville. Apparently, they think it's a 'done deal' and they've given up."
With or without Harvey-Clemons, Louisville is still going to sign a great 2012 class. Harvey-Clemons is the type of recruit that could take that class to the next level, but Strong and staff are still bringing in a lot of talent. Charlie Strong and Ron Duggins traveled to Valdosta last week to make a late push for the 5-star recruit. The in-home visit reportedly went well, but Harvey-Clemons is reportedly looking to stay closer to home.
[addthis tool="addthis_inline_share_toolbox_khm1"]