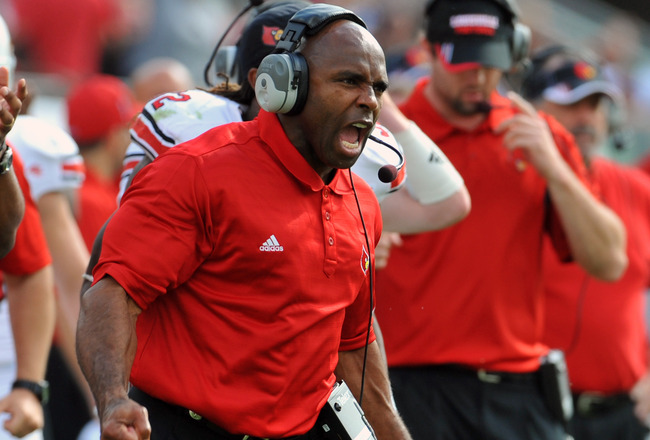 The popular conversation these days when it comes to University of Louisville athletics appears be the excitement of the upcoming Cardinal Football program.  That is all I seem to hear lately from barber shops to community swimming pools to your local watering hole.  I'm not quite sure there has been this much excitement since coming off the 2007 Orange Bowl with a returning roster including Brian Brohm & Harry Douglas and maybe a half dozen other guys now playing on Sundays.  The interesting thing about the excitement for the season is that outside of the obvious answer of Charlie Strong & Teddy Bridgewater, the reasons for the excitement are all over the place, and that doesn't stop here.  I thought today that I would share with you my Five W's of Who, What, When, Where, How and Why I am personally very amped up for what we may soon embark on with this football program.
Who:  This is where you would often see Head Coach Charlie Strong's name listed or maybe QB phenom Teddy Bridgewater.  I'm going to step outside that box and give you two.  One for each side of the ball.  On offense I want to see what a sophomore wide receiver DeVante Parker is going to bring to the table.  It seemed like every time DeVante touched the ball in 2011 it ended with a big play.  33% of the time Parker touch a ball was in the endzone.  Eli Rogers will likely be Parker's biggest competition to become Bridgewater's top target but he easily has the skill and ability to lead this team.  On the defensive side of the ball I think I am most excited to see what we get out of true freshman Gerod Holliman.  When Holliman originally committed to Louisville while playing in the Army All-American Bowl game he became the Cards best prospect for the 2011 season.  Academic issues forced Holliman to miss the season and become a member of the 2012 class.  When Holliman originally committed he was quietly joined by one of his high school teammates in Andrew Johnson.  Well, we all know how well Johnson performed last year and he was a bit of an afterthought coming in behind Gerod.  If the stud DB can come in and give the same type of performance or even potentially more, it will be beautiful thing.  Holliman will have some stiff competition for playing time, but with his kind of talent he will no doubt find a way to the field.
What:  The offensive playbook.  I'm not sure the last time Louisville had the type of talent at the skill positions that it will possess this season.  With that being said, you have to have to find a way to utilize that skill.  Louisville began last season under Offensive Coordinator Mike Sanford.  Following a lackluster offensive performance and loss against Marshall, Sanford didn't join the team at North Carolina and Quarterback Coach Shawn Watson started calling the plays and began what would eventually be a move to Offensive Coordinator.  Midway through the season Watson made the decision to not try and re-invent the wheel and just keep it simple to finish the season.  Now that the new OC has had a chance to make some changes and implement his own system, the sky is the limit.  In the past as an Offensive Coordinator Watson has used the West Coast system.  I expect we will see at least a version of that.  With the type of talent available to him, the possibilities are endless.  Many fans showed some frustration at times last season and I expect those same fans will be showing their new Offensive Coordinator much love.
When:  This one is easy.  September 2nd 2012.  The annual rivalry with YewKay is finally again being played when it should be, as the game that kicks off the season.  The Cardinals are currently favored to win this contest by 13 points.  In rivalry games like this you can pretty much throw out and projections, predictions and numbers, because when it comes to a matchup like this, anything can happen.  YewKay head coach Joker Phillips has done a pretty good job recruiting this off-season and has some fairly good returning talent.  For the 2011 match-up Louisville came out ahead 24-17.  I expect this season's contest will widen that margin of victory for the Cardinals.  Louisville's depth, talent and coaching should be too much to handle and it will send the yewkay fans back to the basketball message boards.  But again, in rivalries anything can happen.  Let's just hope for a good old Cardinal beat down.
Where:  Under center.  Teddy Bridgewater stepped in last season for an injured Will Stein against YewKay and started every game since.  Teddy finished up the season being named the Big East Rookie Of The Year.  Albeit a little premature, Bridgewater is also already being mentioned in some conversations regarding the Heisman Trophy candidates, but mostly as a member of the 'best of the rest'.  As one of the most decorated quarterbacks to ever suit up for the Cardinals he will enter the 2012 season with very lofty expectations.  Athlon Sports named Teddy Bridgewater as the Big East's Top Quarterback for the 2012 season, he was also named top QB Prospect for 2015 draft by NFLDraftScout.com and was also named to ESPN's Andrea Adelsons's Top Ten Player Rankings for the Big East Conference.  With targets at Teddy's disposal and a seasoned arm and legs underneath him, it could be a special kind of season for this young man.
How:  Under the tutelage of Head Coach Charlie Strong.  Many would tell you that there is no other coach in the country that they would rather have at the helm and I am one of them.  If Charlie Strong puts together the season that many are expecting for 2012, he will be hands down the hottest coach in the country.  In some eyes he already owns that title.  Strong and his staff have put together recruiting classes that rival any in Louisville history, they have molded walk-ons to starters, they have made fans forget about the Kragthorpe Era and they have put Louisville Football back on the map as a BCS Bowl contender.
Why:  Because the time is now.  As we have seen from the transition of Bobby Petrino to Steve Kragthorpe, anything can happen in no time.  You can go from ending a season with a BCS Bowl Victory to struggling to go .500 the following season with virtually the same roster.  Because Charlie Strong is a hot target, and someone is gonna throw some serious money at him.  Tom Jurich has done a great job at Louisville and he will likely do everything in his power to keep Strong when they come calling, but there are no guarantee's that he will be around forever.  So, with that being said, the time is now.  The train is rolling.  Get on board, or get out of the way.