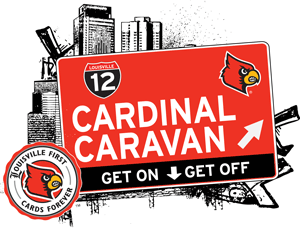 The University of Louisville has announced the date and locations for the 11th annual "Cardinal Caravan." The Caravan will make four regional visits and concluding the event with a return stop in Louisville. Below is an excerpt from the official UofLSports.com press release.
The Cardinal Caravan begins July 17 in Frankfort, Ky., at Buffalo Trace Clubhouse from 11:30 a.m. until 1:30 p.m. Upon conclusion of the event, fans will be able to tour the distillery free of charge until 3 p.m. The caravan will make a second stop later that evening when coaches and student-athletes travel to Northern Kentucky to visit the Newport Aquarium from 4:30-6:30 p.m. 
Members of the U of L coaching and support staff will be at the National Corvette Museum in Bowling Green, Ky., on July 18 from 6:30-8 p.m. ET, and the caravan concludes regionally with a visit to Owensboro, Ky., on July 19 at the River Park Center from 12:30-2 p.m. ET. The trip ends that evening when the Cardinals visit Captain's Quarters from 5:30-7 p.m.
Head women's basketball coach Jeff Walz, assistant football coach Kenny Carter are among the coaches attending the caravans along with of BIG EAST Softball Coach of the Year, Sandy Pearsall, who guided her team to a school-record 55 wins. Senior Peyton Siva and juniors Gorgui Dieng and Russ Smith from U of L's Final Four men's basketball squad will also be in attendance as well.